The Sandman Will Keep You Awake - The Loop
Play Sound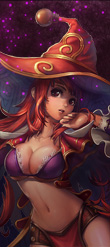 Dorothy
Character
[
]
Dorothy, which might be based on the story of Little Red Riding Hood.
Character Price: 1200 gold, OR 24 Blue Diamonds.
Skills
[
]
Virtually Identical to "Ryze" from League of Legends

Q
Passive: 2% cd decrease.
Active: Shoot a fireball.

W
Active: Ensnare emeny 0.75 s, deal magic damage
E
A fire ball that bounce between everyone. Only deal damage to enemies.

R
+Spell vamp, + MS, skills deal area damage.(?)
(It doesn't written in her description but it seem it reduce skills cd too.)