The Sandman Will Keep You Awake - The Loop
Play Sound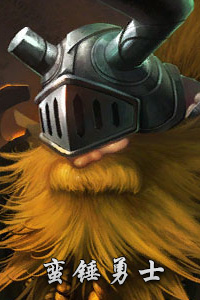 Character
[
]
Kruger appears to be an original 300 heroes character.

Character Price: 420 gold, OR 12 Blue Diamonds
Stats
[
]
Life 9 Physical 4 Spell 3 Team 5 Operating 4
Life 655 (+81)
Mana 280 (+33)
Physical attacks 57 (+3.5)
Spell 0 (+0)
Physical defense 21 (+3.8)
Magic Resistance 30 (+1.3)
Crit 0.0 (+0)
Attack Speed ​​0.63 (+0.03)
Attack range 1.10 (+0)
Movement Speed 289 (+0)
Skills
[
]
Please note: Translated directly from chinese using google. Not reliable but may give you minute insight into the character's workings.

Thump
Passive

Cooldown: None Skill Cost: None
Passive skills ,, general attack on the building of the damage caused by 150%, 20% lower probability of enemy units by 30% attack speed for 2 seconds

Storm hammering
Q

Cooldown: 14/13/12/11/10 skills Consumption: 60/65/70/75/80
Hammering an enemy unit, causing physical damage, and dizziness

Wildhammer Wrath
W

Cooldown: 10 seconds Skill Cost: 100 mana
Shock ground with a sledgehammer, causing the surrounding non-hero units spell damage, halved hero damage effects and reduces movement speed by 50% for 3 seconds

Warriors end force
E

Cooldown: 0 seconds Skill Cost: None
Passive: attacked by enemy units will reduce the target of an attack of their own units injuries within 5 seconds, you can accumulate

Titans
R

Cooldown: 50/35/20 Skill Cost: 50 mana
Wildhammer Warriors rapidly toward the destination, after the formation of the EU in its own force field crustaceans, increasing physical resistance and 50/70/90 50/70/90 point spell resistance for 3 seconds
300 Heroes Background
[
]
Warning: Poorly translated from Chinese using Google Translate
Kruger Vikings are convinced himself bravely when killed in battle, he will be under the Valkyries escorts, across the Rainbow Bridge into heaven. Kruger convinced that their own record brave enough to get an audience with Odin. But all hope dashed! Because when he opened his eyes to see is not the death of a beautiful Valkyrie, but a twisted melon split dates of Summoner. He picked up a hammer huff, the Summoner hit turned to the ground. Labored, Summoner who just let Kruger did not understand that he died. The brave Viking warriors just been summoned into the eternal masters of the land, a paradise of war! Nothing more than "beating a hundred rounds" Let Vikings happier now! Kruger is now once again picked up a hammer, to fight for Summoners.